When I first thought about the Mouthy Stitches tote I pulled some fabric from my stash, ordered the Essex linen from the lovely Justine from Simply Solids and panicked. As you might remember I changed my mind twice before settling on the colours and the "Fleeing the Nest" block.
Now that I had the outside done it was time to think of the lining. At first I was going to use the aqua as the lining but then quite a few people on flickr mentioned that it was a bit too much blue for their liking. Back to the drawing board and back to stalking I went. Lo and behold, I found a little sentence on my partner's blog which stated that her favourite colour is purple. In my stash I have this lovely lilac/purple polka dot fabric which I thought would be lovely to use. After all, the bag is reversible and should look as pretty on the inside as it does on the outside.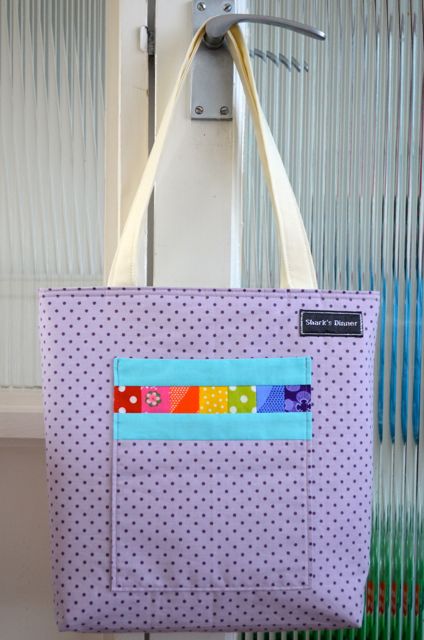 To break up the purple I made a nice bright and fairly big pocket which is practical and pretty. I used some of the rainbow scraps and aqua fabric from the front to tie it in and I love it.
I forgot to show you the back of the tote yesterday. Just in case you were wondering what it looks like, voila!
Now I just have to make a key fob and I'm sorted. Way ahead of schedule. Must be a first.