What a fantastic weekend! I really and truly had the time of my life, made some friends and found lots of inspiration.
The Fat Quarterly team and teachers did a fabulous job, everything was well organised and so much fun. They made sure that no one sat in the corner by themselves but joined in and had a blast. The classes I took were great and very inspirational. In fact, it's a shame this week is half term as I'm dying to get behind the sewing machine to finish off my paper pieced cushion cover and make some more portholes. More about those in my next post, though.
Now, before I continue I have to admit that I am a bad blogger as I hardly took any pictures at all. I was simply overwhelmed by all the friendliness and was chatting too much (is that possible at a retreat?) and in the process forgot to take the camera out.
Friday I hopped on the train to London with my sewing machine on my shopping trolley and three bags. I had already decided to take a cab as I could not imagine dragging my machine up and down stairs to get on the tube. The cab driver almost collapsed when he lifted my Bernina into the cab. She's a very heavy girl, my dear Wernina (my uncle Werner bought her for my aunt Tania who then gave her to me, hence the name). I think I might have to save up for a lighter machine for the next retreat. Anyway, I got to the hotel where I met the first two participants, Leanne (She Can Quilt) and Susan (Canadian Abroad). My room was very bijou but equipped with an ironing board, iron and hairdryer. I have no idea where I could have put the ironing board had I wanted to use it but it was a nice thought….
At 5.30pm I made my way to the lobby where a bunch of us was meeting up to go to Tikki Patchwork together. I bought some fabric, of course.
I don't know who the above fabrics are by but I also bought some Bug Jars from the Backyard Baby Collection by Patty Sloniger for Michael Miller Fabrics.
Natalie Lymer's Woodland also came home with me. I want to make some Christmas cushions that aren't too christmassy and I think those little toadstool houses are perfect for this project.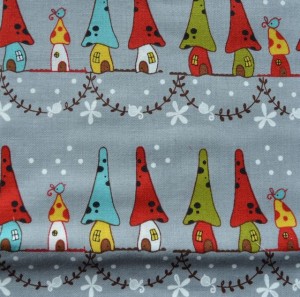 After our little shopping trip we all went for a lovely meal before going back to our hotels and rooms to get a good night's sleep before the start of the retreat.
I'll tell you all about Saturday in my next post. See you then!