A rather belated happy New Year! I've really missed this blog. It's not that I haven't finished projects I could share with you but simply that I lost my blogging mojo. Here's to hoping that it's here to stay now.
Much has happened since the last time I blogged so I'm going to try and go back in time and tell you about a couple of projects I've made. First of all, I was lucky enough to have a project accepted for the new English quilting magazine 'Quilt Now'. My cushion cover, 'Emerald Tile' appeared in issue 3 which had a Moroccan feel to it.
I had already designed the pattern earlier but had to adapt it a little to make it work. It was my first commission and quite scary, I have to admit. In the end I absolutely loved the whole process and pitched more projects. I was very happy to have had another two projects accepted for issue 6.
Sadly I haven't received my copy yet; Christmas seems to have disrupted the postal system so badly that my copy of 'Quilt Now' has disappeared *insert sad face* and I'm rather worried. One of my fabric baskets made it onto the cover and I'm desperate to see it. Here's a pic of the baskets in my messy sewing room:
When Little Miss Bossy-Boots heard that her fox had made it onto the cover she started dancing and singing "I'm famous, I'm famous….".
I also made a quilt and cushion for the same issue but have no pictures of either. Here's a picture of a cushion I made for my nephew and his girlfriend from the pattern.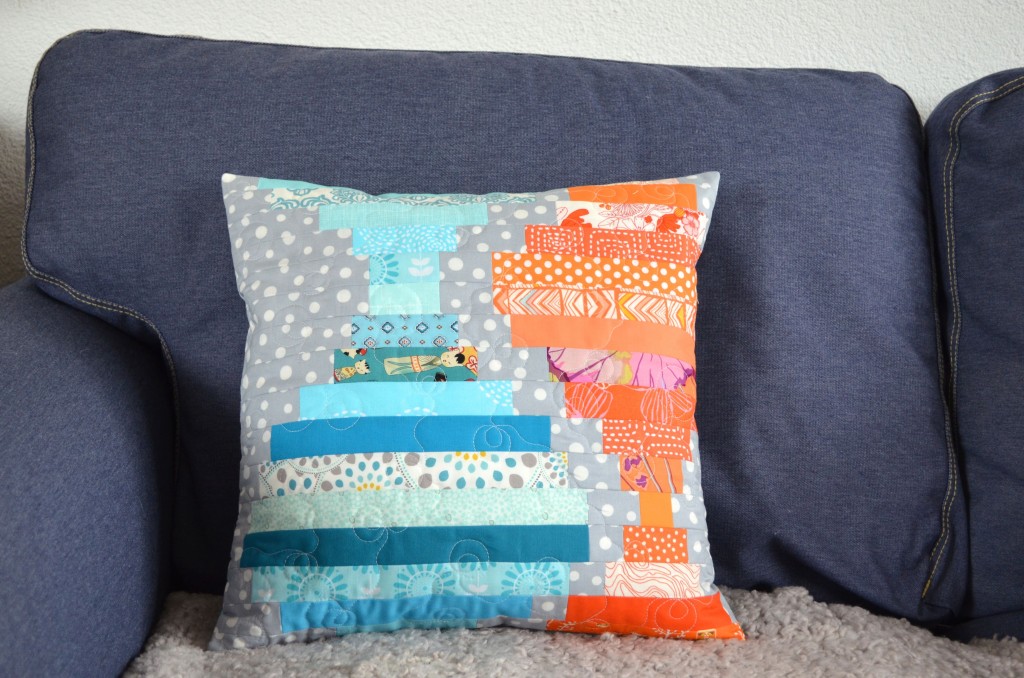 There's another quilt waiting for its spot in the limelight.
I can't show you any more yet but I'm incredibly proud of this quilt. I think it's my favourite so far. Charlie likes it too!
Another quilt Charlie likes and which I can't show you yet is 'Three'. This one was made for the designer challenge in Fat Quarterly and will be in their February issue. It's really exciting to be able to show the things I've made on a bigger scale and I hope that someone will use one of my patterns and make their own version. That would make me truly happy.