This quilt has been in use for a while already, half quilted and unbound. I put it on the bed, just to see how it would look after I stitched in the ditch. There were still safety pins in it but that didn't disturb Charlie in the least and he had his nap on it.
It stayed on the following day too and the day after that. Then I took it off and started quilting the pebbles. I can't really call them circles as most of them are anything but round. Because they're quite big I kept hitting my hand on the machine resulting in very wonky pebbles. Now, if this quilt had been for anyone else I would have ripped out all the stitches and done some straight line quilting but as it was always meant for me (it was made with the first fat quarter bundle I bought: Echo by Lotta Jansdotter) I thought it would be fun to continue and see if the quilting would improve. It did, a little.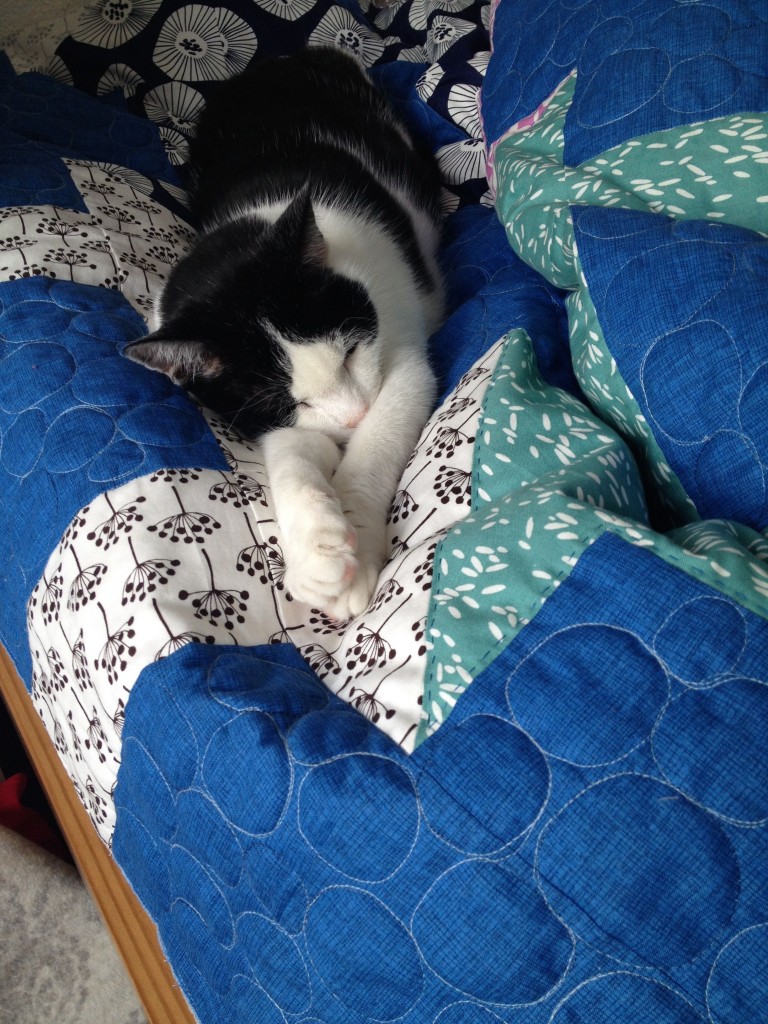 I started hand quilting the churn dashes but then didn't really like the look and instead quilted them half an inch from the edge with my walking foot. As I was showing my mum the quilt I realised that I'd forgotten to sew around one of the insides. I may go back and do it one day but maybe not. It's quite fun to have a quilt that isn't perfect. Apart from the fabric and thread, that is.
Charlie was on my case while I was quilting and when I was sitting in the evening hand sewing the binding to the back, which by the way is Pearl Bracelets. Wherever the quilt was, Charlie was. It now resides on my bed again and Charlie is happily sleeping on it!
The quilt finished at 53″ x 68″ after washing and is perfect for snuggling and sleeping under. I pieced it with Aurifil  50wt (2600) and quilted it with a gorgeous variegated Aurifil 40wt (4669) in various shades of cream and blue.
This is another finish on my Finish-A-Long list, number four to be exact. I feel the need to take another picture of this quilt, maybe down by the lake, as this one was taken in the evening in lousy light.