I've started on the Grenoble Quilt. I have to admit that I was naughty and started on it before having finished three WIPs. I simply couldn't wait. However, I did go back to my pile of unfinished projects once I'd scratched that itch and finished three small projects.
I've cut up my template into small chunks of 6 x 7 squares which means I end up with blocks that are 7.75″ x 9″, a nice manageable size to work on while I'm out and about.
Once I finished the first block I sewed the little template onto it so I remember where the block goes.
So far I've only finished two blocks but I've decided that once I've sewed the first seven (which means one whole row). I will then sew them together before continuing with the next seven blocks. This method should make it easy for me to see my progress. I can get bored by projects if I don't see enough progress.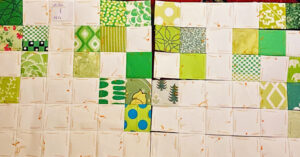 When I started the block I thought I would go scrappy with the background too, but I haven't really got enough different low volume scraps so in the end I decided to only use solid whites. As they are scraps they're not all the same white but I don't mind that at all; I think it gives it a bit of movement. So far I'm only using greens but I'm thinking of doing the zigzag in dark blue and the crosses in teal or even pink. I've got a bit of time before I have to decide what to do (twelve more blocks to be exact) and I rather like not planning ahead. Especially as this quilt will be completely made from my stash.
One thing I have to admit though is that basting and sewing squares is booooooring. Thank goodness for Netflix or this would not end up as a quilt but as a cushion or table runner.
Happy sewing!