Friday I went to a quilt show here in Switzerland. It was organised by the Association of Swiss Quilters and was held in Solothurn which is only 20 minutes away by train. I met up with the lovely Helen from runquiltknitwrite and we had a great time looking at all the quilts and shopping for a bit of fabric.
You weren't allowd to take any pictures of the quilts which I thought was a real shame as I really didn't want to spend money on a catalogue (not if I could spend it on fabric!!!). I did sneak in one picture though with my phone.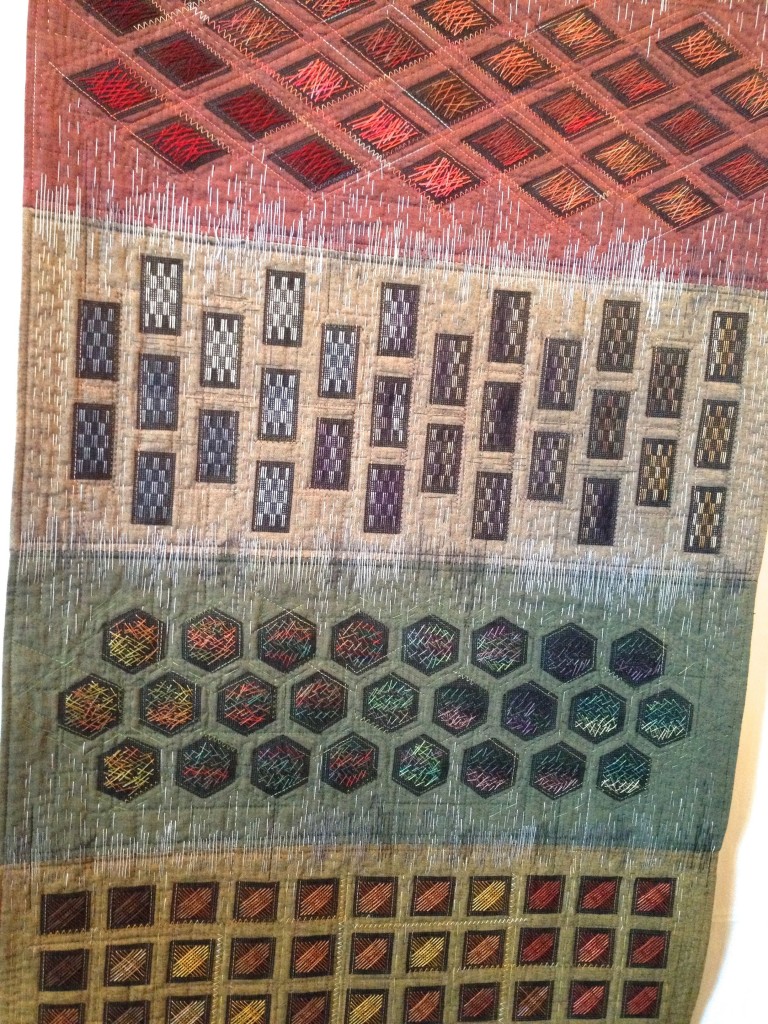 Quilts in Switzerland don't seem to be about snuggling or warmth but all about art. They were all made for hanging on the wall, some with paper, plastic and bubble wrap on them. One had lots of bobbins sewn on it, others had buttons or 3D flowers. Did I like the quilts? A few. Was the show inspirational? Yes, absolutely. It made me want to push some boundaries and maybe make an art quilt for hanging on the wall. Just because I would like to see if I can. However, it also made me realise that I love to make things I can use as well as look at and that I would probably be in the wrong place if I joined the Swiss quilting association.
What about the fabric I bought? Actually it wasn't very much. I bought a Kaffe Fassett print that I absolutely adore and a few purple fat quarters as I want to make Little Miss Bossy-Boots a new quilt. She's getting too big for the pink log cabins (although it's still perfect for snuggles on the sofa) and prefers purple to pink now. Slowly but surely I'm trying to find enough purple fabrics to make her a Dresden plate quilt. I'm going to add more colours but want to start with the purples first.
Solothurn also houses the best fabric shop I have seen in a long time, Stoffartig. It most definitely has everything my little heart desires: quilting cottons, voiles, corduroy, jersey etc and everything else you need for quilting and dressmaking. It was like Aladdin's cave and I got a bit overwhelmed. In the end I only bought a remnant and some interfacing. However, I will be back.