We have just come back from a week in Switzerland to celebrate my dad's 75th birthday.
It was quite funny because I knew ages ago that I wanted to go home for that occasion and was waiting for Master to book his holiday so that we could book flights and a hotel (my parents live in a flat with no guest bedroom). I thought about which suitcases we were going to bring and what I was going to pack. I thought that I had thought of everything until I realised in a panic that I had forgotten one small but very crucial detail: a gift for Baba.
What do you give to someone who answers "nothing" when you ask him what he would like for his birthday? Well I thought about it for a little while and came up with the idea of giving him a patchwork cushion for his afternoon nap. He loves to lie on the sofa after lunch with a cup of coffee, two biscuits and the newspaper and a whole pile of cushions under him.
I remembered a drawing Little Miss Bossy-Boots had made of a snail, dug it out and copied it onto some fabric. Then I sat down to embroider it. Luckily it didn't take very long and I could then start with the patchwork. My parents have a red quilt on the sofa to protect it from the cats and I therefore decided to go with blues and neutrals with a little dash of red. And here it is: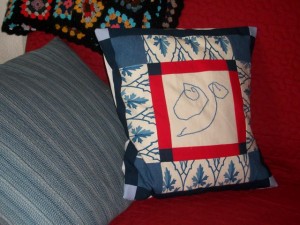 I love it and I believe my dad likes it too. I haven't done patchwork in a long time but this project was so much fun that I'm planning on making new cushion covers for our sofa as soon as I find some nice materials.