Hello! Today is my day on the Oakshott Liparis Blog Hop organised by Lynne from Lily's Quilts. I feel very flattered that I was chosen to be part of this and would like to thank both Lynne and Michael from Oakshott for letting me play with these beautiful fabrics.
The Oakshott Liparis are absolutely gorgeous and can't truly be described, they have to be seen. Each of the eighteen colours are woven with black thread to give a dark and rich palette. They are 54″ wide so go a lot further than regular quilting cottons which is great as you get quite a lot of fabric in a Fat Eighth bundle. Find out more about the inspiration for this collection here.
The minute I realised that I was going to be part of the blog hop I sat down and designed a quilt.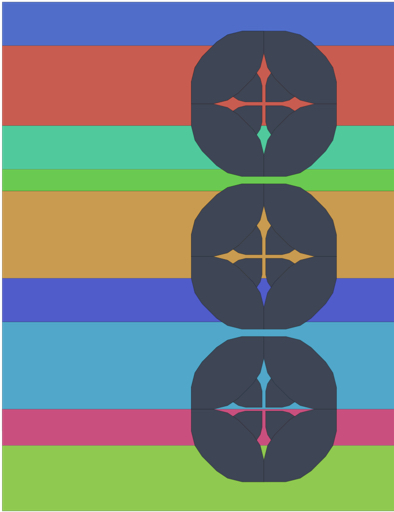 Obviously there was no chance of making it with a Fat Eighth bundle so I thought I'd just miniaturise it and make a mini quilt. However, when the fabrics arrived and I started playing with them, I came back to the same colour combination again and again, blue, green and orange, red. I then found it difficult to cut the beautiful Liparis into small strips so decided to keep all the stripes at the same width and make the wallhanging quite big. Because it ended up as a wallhanging, not a quilt as planned it has a backing, some lush Lipari Marina, but no batting and no quilting. I was worried that the batting and quilting would make the wallhanging too rigid and that it then wouldn't shimmer in the light as much.
This is what I ended up with:
The stylised 'persimon' are English paper pieced and then appliquéd onto the quilt.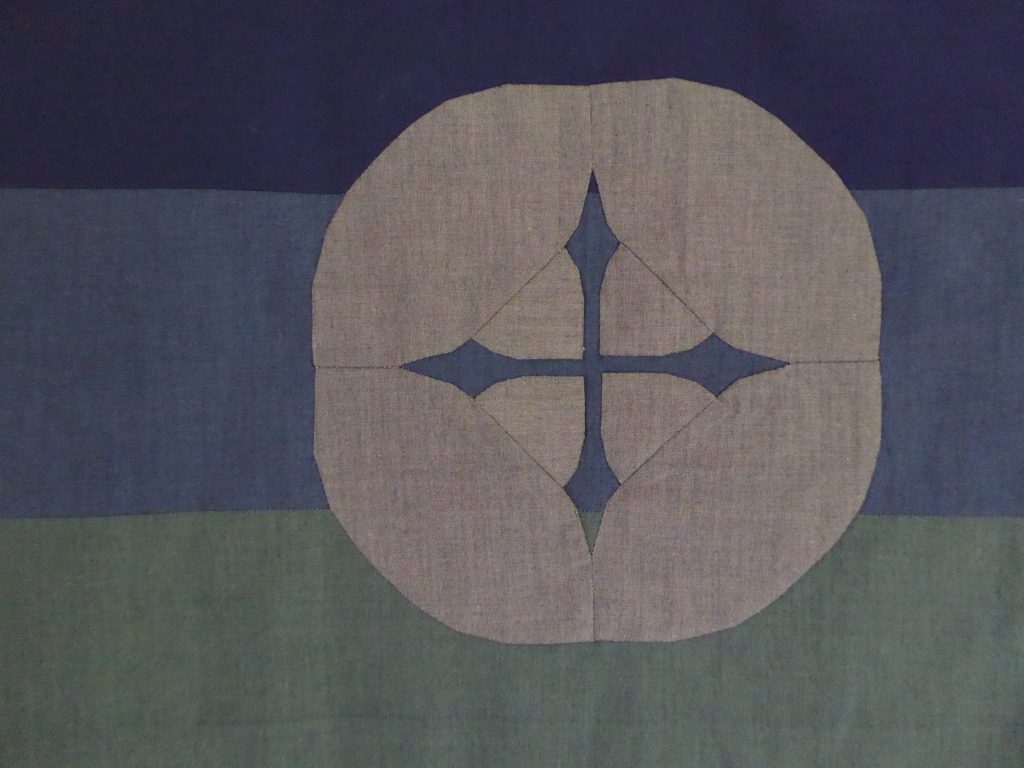 This quilt/wallhanging is quite striking but easy to make. I will give you the measurements I used but it would be easy to resize from small to large.
You will need
8 Fat Eighths of Oakshott Lipari for the background, I used Stromboli, Lisca, Dattilo, Lentia, Porticello, Salina, Scari, Volcano Bleu
3 Fat Eighths of Oakshott for the 'persimon', I used Milazzo, Basiluzzo and Pollara
1 m of backing fabric, I used Marina
Thread for basting and sewing, I use cheap thread for basting and Aurifil for sewing and appliqué.
Cut a 5.5″strip from each of your background fabrics and sew together. I went from deep red to blue to get my heaven and earth feel.
Cut out the templates for the three 'persimon', you will need twelve of each shape
Pin the templates onto your chosen fabric, cut out with a 0.25″ seam allowance and thread baste onto the paper template. 
Sew the small triangular shapes onto the big wedge shape, then sew the wedge shapes together to get a 'persimon'. 
Lay the 'persimon' onto your background and pin into place. I ironed a line into the background about 8.5″ from the edge and centred my 'persimon' on it. Pin into place leaving the papers in.
Appliqué the 'persimon' onto the background with small stitches starting with the inside. Once they are sewn on it's easy to take the papers out of the small and big shape before pinning the outside down again and sewing around.
Trim your top to get nice clean edges. Mine ended up at 25.5″ x 40.5″.
Lay out your backing fabric and lay your top face down onto it. sew around with a 0.25″ seam allowance leaving an 8″ gap so you can turn it inside out. Press well and close the gap with a ladder stitch.
To hang, I sewed a bamboo stick onto the backing.
You could of course also quilt and bind it the traditional way.
The Oakshotts look different in different lights, they are absolutely fascinating. I've hung my  'Heaven and Earth' wallhanging over my bed and I love how goes from very dark to shimmering like a jewel depending on the time of day.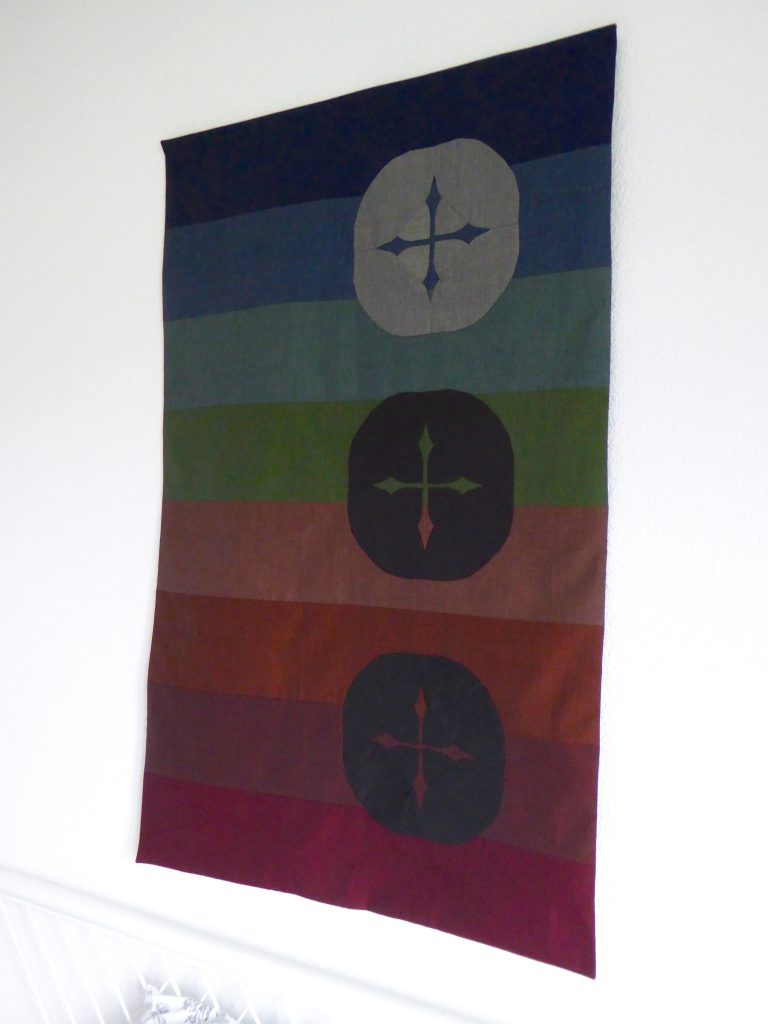 I've absolutely loved working with the Oakshott Liparis!