These last few days have been a race to the finish line as I really, really wanted a second finish for Q3 of the Finish-A-Long.
My first finish was the Siblings Together quilt which I handed over at the Fat Quarterly Retreat.
This is only a picture of the top as I haven't got any pictures of the finished quilt! You can find a picture of the finished quilt here.
The list had a few smaller projects on it but I was determined to finally finish Little Miss Bossy-Boots- log cabin quilt. To be honest, I found it a little difficult to muster the enthusiasm for finishing it as I don't like it. Or rather, I didn't like it. I found the log cabins too busy and bright. However, toning them down with some white squares helped tremendously. As I didn't have enough white for more than four squares so added some polka dots which I had bought for the backing.
The quilt has grown on me and I rather like its cheerfulness. I decided to have fun with the quilting. First, I quilted some square spirals on the log cabins simply following the lines with my walking foot. Then I decided to quilt a big flower in the white squares, again with my walking foot. This was a lot of fun and I enjoyed the process, although turning the quilt so many times was a bit of a pain.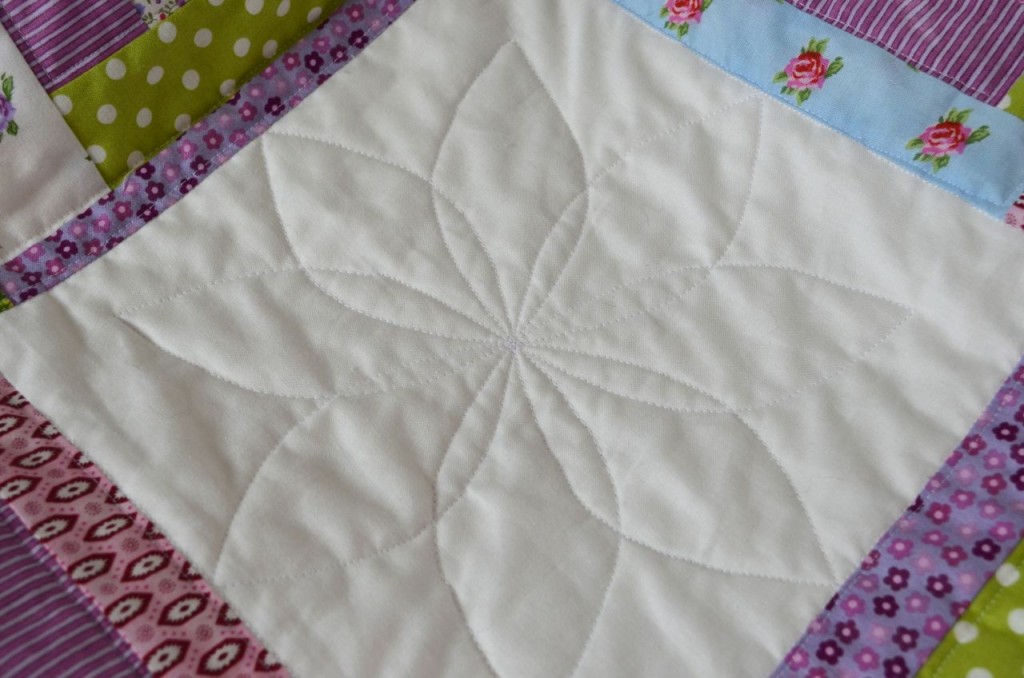 Far from perfect but I don't think my five year old is going to notice.
Next I thought about the polka dots and decided to practice my fmq with some stippled hearts.
Again, this is far from perfect but I'm proud I did it and had fun in the process. When I told Little Miss Bossy-Boots I was going to add her name as well she asked if I could also add Charlie's name as he likes her quilts too. So I did.
And then I was asked to quilt some cats too. Cats? That's pushing me to the limit. In the end I managed to hide a few cats amongst the hearts.
The quilt finishes at 45″ x 45″, just the right size to snuggle under while watching a movie, and is entirely pieced and quilted with Aurifil in white (2024, 50wt). I'm so pleased with how it came out in the end and can't wait to stick this quilt in the washing machine and tumble dryer. I think it should crinkle up beautifully.
Little Miss Bossy-Boots loves her new quilt and I love that I've been able to make my bestest girl happy.