I love making amigurumi, the lovely little crochet cuddlies (or not so cuddlies). It's been a while since I made one, in fact it was January when I finished Xolpoth the friendly alien. However, as I was sorting out some of my pictures I stumbled on lots of pictures of the amigurumi I made for a friend's wedding. When Little Miss Bossy-Boots' godmother got married last summer she asked me to make an amigurumi for each child that was invited. I thought it was a really nice idea and started crocheting until I had 18 of the little critters. Don't worry, I'm not going to show you all of them but I will show you a few of my favourites.
The penguin:
The bee:
The pig, which Little Miss Bossy-Boots brought home again: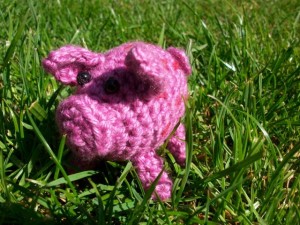 Jasper, who never made it to Germany where the wedding took place. I admit it, I have a great love for ginger cats and he stayed with me:
And last but not least, Spoldink, my first alien:
Seeing all these amigurumi again has made me want to make more. Yep, the crochet hooks are out again. Prepare to see a few more on this blog!