Wow, it's already the fourth month of my BOM and I'm really hoping that everyone who's still sewing with me is having fun.
I've found last month rather difficult as I couldn't sew or type as I was suffering from tendonitis. Everything's more or less alright now, although I still have to be a little careful and take enough breaks. I just about managed to finish my March tile in March, finishing it on the 31st.
I love my last block which I did with Kona Honeysuckle, one of my favourite Kona colours. I'm already looking forward to this month's colour which is Kona Banana, another firm favourite. I think the four blocks look quite good together, although I'm not sure if I'm going to keep the emerald block the way it is. I feel that the colour is too solid. However, I won't do anything about it until I have a few more blocks and can judge it properly.
So without much ado, here are the templates for April's block.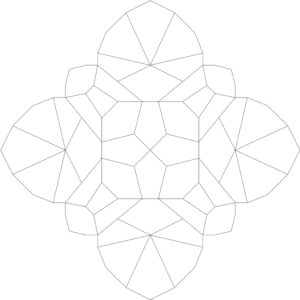 And here is the PDF for the entire tile, so you can do some planning.
Happy sewing!
By the way, I'm preparing a blog post about layouts. I'm using a very simple 3 x 4 layout as I've always said that I want to use the quilt-as-you-go method. I haven't started quilting yet as I wasn't sure about the background fabric. There are so many different possible layouts, though, that I thought it might be fun to show them here on the blog.
As for the background fabric I have now narrowed it down to two, one white with grey polka dots and one grey and white striped one. The second I'm sure which one to choose I'll start working on appliquéing the tiles and quilting the first few blocks.