After finding the time and gumption to enter Jewel into the Blogger's Quilt Festival I've decided to go for it and enter another quilt: The Heron Log Cabin.
This quilt was made to showcase the Heron print from Across the Pond by Cloud 9. I fell in love with this print but only bought a fat quarter. I have no idea what I was thinking but hey ho it's nice to surprise yourself sometimes. Anyway, I decided to make a quilt that would be all about this print. Around about the same time I bought a Kona brights jelly roll and when I opened it to take all the purples out to use as binding I realised that the blues and oranges went really well with the Heron print. The idea to make a large log cabin quilt was born.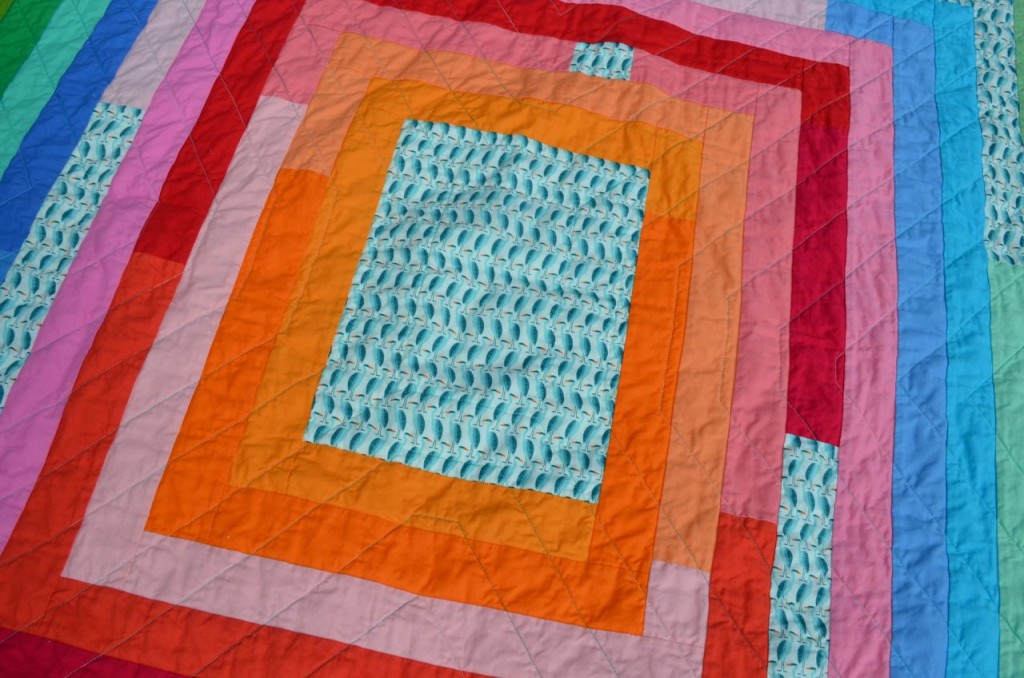 I cut a centre panel from the fat quarter and then cut 2 1/2″ strips from the Heron print making sure the Herons were going up and down and across. Then I started sewing the jelly roll strips on. From time to time I would insert a Heron to break up the solids and use more of the fabric.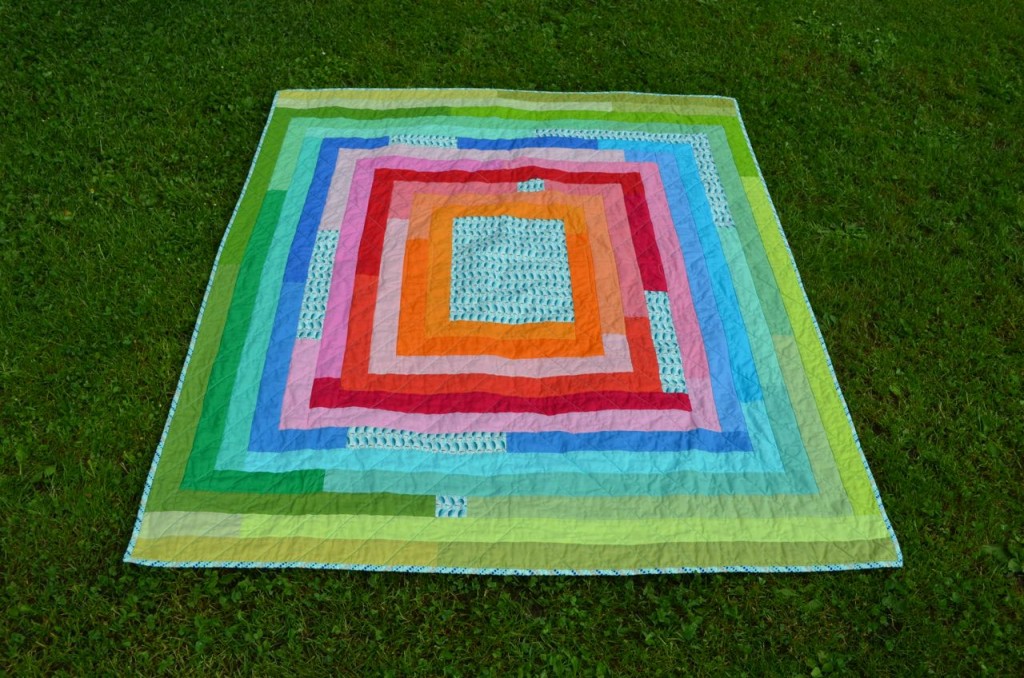 In the end I only used the oranges, pinks, reds, blues and greens from the jelly roll. I wasn't sure how to quilt it so I asked for advice on Instagram and Krista from Poppyprint sent me a picture of how she would quilt it. It's basically like chevrons going towards the centre. I think it gives the quilt a wonderful modern look.
The quilt was pieced with Aurifil 50wt in 2600 and quilted in the fabulous variegated Aurifil 40wt that I seem to use on all my quilts lately, number 4654. It finishes at 46″ x 57″ and is perfect for snuggling on the sofa. It's backed in the Ikea Britten Numbers and bound with Windmarks Mirage from Tule by Leah Duncan for Art Gallery Fabrics.
Please take the time to go and browse all the other fantastic entries to the Blogger's Quilt Festival. I'm sure you will find lots of great inspiration. All you have to do is click on the link below.
By the way, this quilt was on my FAL and I'm happy to say that it means I have finished two of eleven WIPs. I'd better get a move on!