I must have been an incredibly good girl lately as after the great emails I got yesterday I was blessed with two lovely packages in the post today. They both came all the way from Australia!
The first one was one of those really kind gestures that make your heart sing. A little while ago Trystan, maidentatters on Instagram, posted a picture of the cutest little pink scissors. When I told her how much I loved them she offered to send me a pair. Now how could I resist such an offer? They arrived today and they are so incredibly cute I can't stop looking at them. However, that wasn't the only thing Trystan sent me, she also included a lovely little box pouch in blue and white. It's absolutely perfect to use for a hand sewing kit. I like to have a few as I usually have about three projects on the go.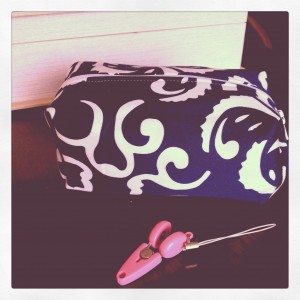 Instagram photo
The second package was my Mouthy Stitches tote. The second I saw the name of the sender I knew which one it was and started whooping! Shocking Hocking did incredibly well, picking my favourite colours and making a fantastic paper pieced stars on one side and some patchwork on the other.
Love the little fussy cut deer, bird and car. The hand quilting is beautifully done.
The lining is simply gorgeous and there are three great pockets for my phone, tissues and a wallet. Not my keys as they will be put on the fabulous lanyard Kay sent as the key fob.
Swaps are always a bit daunting as you don't really know if what you've made is going to be to your partner's taste. Furthermore, you might not like what is coming your way very much. So far I've been lucky, I absolutely love this tote and am sure that I will use it a lot.