I've finished my Doll Quilt Swap 14 mini quilt and I'm really very happy with it.
The only thing I'm a little disappointed with is that I couldn't do more quilting on it. Once I'd finished stitching in the ditch around the 'bloom' and the linen pieces my back gave out to me. I realised that I wouldn't be able to sit at the machine much longer and therefore simply echo quilted around the bloom a few times. I quite like the simplicity of it, it really lets the fabrics do the talking.
The mini's progress was stalled when I ran out of Liberty scraps that were big enough to finish the last few pieces. I ordered a mini bundle from Ali's shop Very Berry Fabrics on Folksy and it arrived promptly a couple of days later. Thank you so much, Ali, for such quick service!
The Liberty Bloom is pieced and quilted with Aurifil 50wt, my favourite thread of all times.  It finishes at 19″ x 19″ and has a scrappy Liberty binding which I am very partial to. I just hope my partner loves Liberty Bloom as much as I do.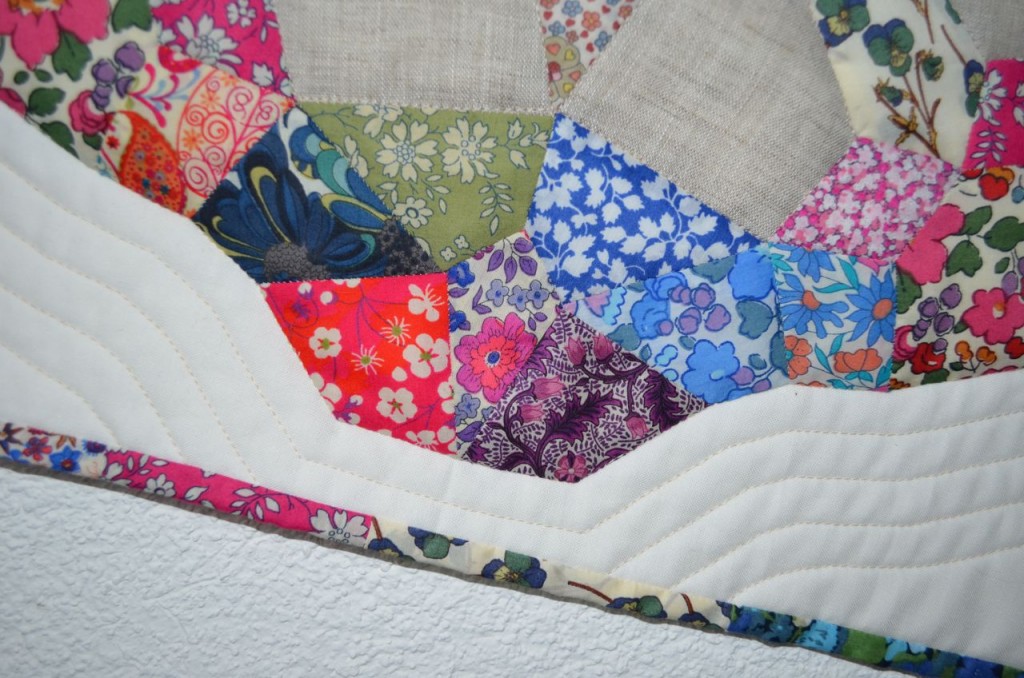 The pattern for this mini will be added to my tutorials once my partner has received it as I've named it after her. I don't think she reads my blog but it's better to be safe than sorry and I don't want to spoil the surprise for her. One of the fun things about theses swaps is that you don't know what you're going to get until you hold the package in your hands.
This was another projects on my FAL list and I'm so happy to be able to cross it off.