Hi there. I know I have been gone for a very long time but I've had a big personal sorrow to deal with which meant I had to travel to Switzerland from one day to the next. I'm back now, though, and I have some lovely ideas for the next few crafting sessions. However, before I get going I would love to show you what I made before travelling home: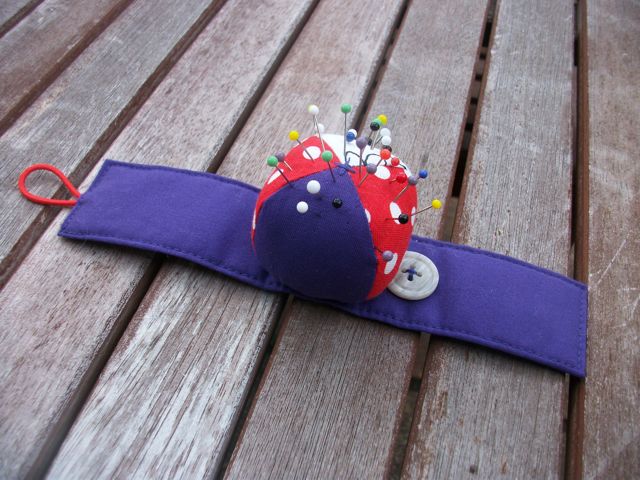 For ages I've been thinking that I really need to get a new pin cushion, one that I can put on my wrist so that it's always with me. I sew sitting on an office chair with wheels with my ironing board set up right behind me at the right height to iron sitting down. All the cutting, pinning, planning etc. is done on the ironing board, then I swivel round and sew on my machine and forget to bring my pin cushion. Doh. I have to stop the machine, swivel round again, get the pin cushion and continue (I like to take the pins out while sewing, rather than afterwards. Don't know why. Answers on a postcard, please). Gone is the hunt for the pin cushion because now it will go with me wherever I go! Even downstairs when I make myself a nice cup of tea and get a cinnamon swirl out of the tin. Mmmh…
I'm so in love with this pin cushion I'm going to make a few more and maybe even write up a tutorial for them. It's great to use up some favourite scraps. Anyone interested?